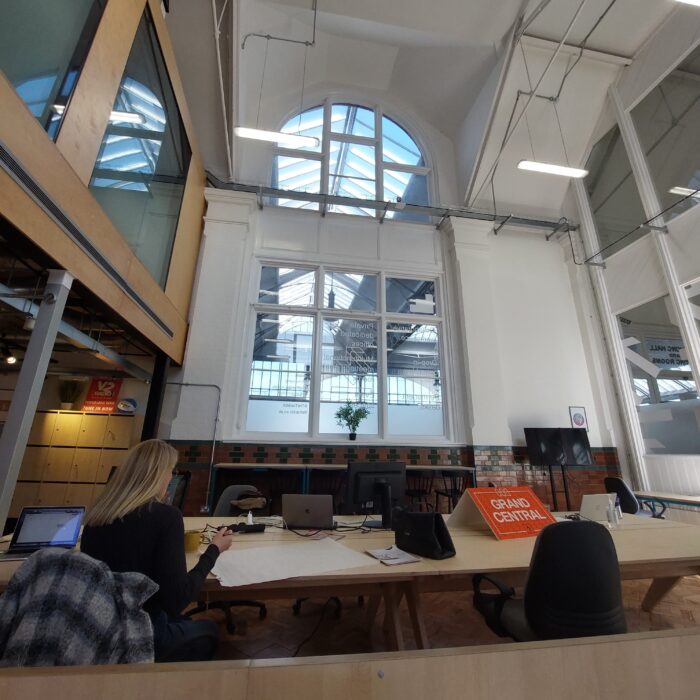 It's your 2-year anniversary of working at home. You sit down at the makeshift work-from-home set-up that you vowed you'd make more permanent, but you find yourself peering over piles of laundry at your other half, whose phone voice started to make you want to tear your hair out way before the halfway mark. Your back hurts because your chair wasn't made to be sat in for 8 hours a day, and your internet can't keep up with your need for speed.
"I long for my 1 and a half hour commute" you think, bypassing the fact that it took about 3 hours out of your day, 15 hours out of your week, 60 hours out of your month, and a mighty 720 hours out of your year (that's.a.whole.month.)
Wouldn't life be better if there was another option?
Co-working has taken the world by storm. By 2024, the amount of co-working spaces is expected to surpass 40,000, with 3 million co-workers globally in 2019, this number is expected to nearly double in 2022.
But why do people co-work if you have a perfectly sturdy table at home, paired with a chair that "will do" – why would you go yonder the front-door? Or if you have an office already there and waiting for you and your colleagues, why would you choose to boot-the-commute?
Benefited Health
Shared offices make you a healthier human! A study looking into productivity suggested that 70% of members are healthier working amongst peers than if they stayed at home.
By working in an environment with likeminded people and the ability to collaborate, it's no surprise that there is benefits for your health. The impact positive surroundings can do for your health is limitless!
Shorter Commute Time
Over 50% of you want to work closer to home. Not only does it give you more time to play with (whether that's getting to say goodnight to your kids, spend more time with friends or simply more you time) but by staying closer to your front-door, you'll be spending your well-earned pennies with local businesses if you get lunch to-go. A hefty 77% of workers even expressed that convenient office space is a priority for their next job (take note employers!)
Flexibility
Will you work from home today, the office, or from a co-working space?
Sometimes the chance to breathe and choose where works best for you, is the biggest advantage above all. 97% of people believe that if they had the flexibility in their work, this would have the most positive impact on their quality of life.
Community
Remote working – whether you're employed or self-employed – can be incredibly lonely, so it comes as no surprise to say that feeling a sense of community is one of the biggest reasons as to why people co-work.
You can bounce ideas off each other, collaborate on projects and find friends for life all under one roof – how fab is that?
Motivation
There's nothing worse than looking at the same wall day-in-day-out. Whether you need to get your head down and get a report finished, or you find yourself lumbered with heaps of monotonous admin, being amongst people doing the same thing has 84% of co-workers feeling more motivated.
Expansion of Skills
You're only one person, so you can't expect to do the job of a whole team – which is where your fellow co-co-workers come into it! Imagine the expanse of knowledge you have when you all come together! 69% of people who co-work say that they have obtained new skills from co-working, with 68% also saying their existing skills have improved since joining a space – it's a win-win!
Time-saving
You can save yourself up to 51 of those sweet minutes a day by not commuting. There's never enough time in a day, so it's time for your to claim some back.
Whilst we've listed some of the benefits here, we're pretty sure (although we may be just a tiny bit biased…) that there's an endless list as to why more people should be coming to places like The_Track.
Have you always wanted to have a nose around and see if we were the right space for you to work from? Come on down – we'll pop the kettle on and show you around – we look forward to meeting you!