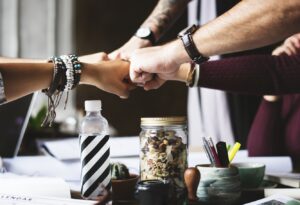 The_Track's new Sales and Marketing Communications training course kicked off last week and is proving highly popular – but it's not too late to join. So if you're a freelancer, startup or small businesses can still take advantage of this free course and not miss out.
Each week we'll send you a short articles as a PDF which explains an important sales & marketing topic.  We'll also send you a link to a zoom webinar that takes place a week later where you can ask any questions, get feedback on the exercises in the PDFs and discuss how to apply the learning to your own business.
The complete 6 weeks training programme includes:
How To Write A Sales & Marketing Brief (PDF available now, webinar Wednesday 03 March, 12.00 pm)

Brand and Branding (PDF Wednesday 03 March, webinar Wednesday 10 March, 12.00 pm)

Creative Tactics and Techniques (PDF Wednesday 10 March, webinar Wednesday 17 March, 12.00 pm) 

Copywriting (PDF Wednesday 17 March, webinar Wednesday 24 March, 12.00 pm) 

Business Storytelling (PDF Wednesday 24 March, webinar Wednesday 31 March, 12.00pm)

The Psychology of Influence (PDF Wednesday 31st March, webinar 07 April, 12.00 noon.
Join now and we'll send you last week's PDF on How To Write A Good Brief together with the current topic Brand. Then you can join us for the interactive webinar on Brand on Wednesday 10th March at 12.00 noon.
Click and Keep
You're free to download the PDFs and keep them. Attending the webinars isn't compulsory – they're there to help – and many people tell us they really help make the learning a lot more effective and easier to understand.
3 free Headspace Days at The_Track when you book this course
Register for this free course and we'll also give you 3 free trial days at The_Track. We call them Headspace days and they're your chance to check out the coworking experience at The_Track, get a feel for the stylish space and give you a chance to clear your head and escape from working from home. What's more, you can spend your 3 free Headspace Days any time you wish.
Book your free place now
To reserve your free place please use this link to our Eventbrite page:
https://www.eventbrite.co.uk/e/sales-marketing-communications-training-tickets-140684608451