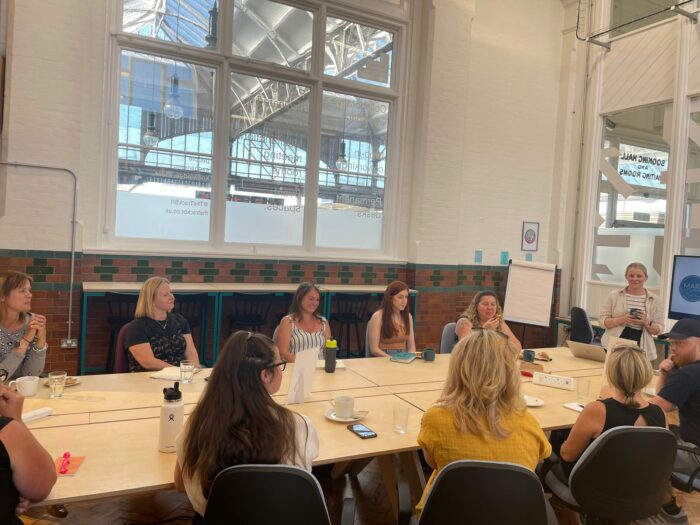 You might have heard us throwing the phrase Startup Club quite a lot – and rightly so! We are super-duper passionate about them (with bells on). Our Startup Clubs allow people to get access to top-quality business info, minus the hefty price tag that so often comes with this kind of things. Here at The_Track, we want to help people thrive, without having to worry about money – because let's face it, life is pretty expensive at the moment as it is.
A Brief Description
Startup Club is an 6-week workshop that is hosted both here at The_Track in Bognor Regis – aka just inside Bognor Regis Train Station's corridor where the old booking hall used to be, and through the big greeny-blue double doors. (For those of you who have never popped by before, it's a gorgeous registered building that has been repurposed into a coworking space, which is run by our company TownSq. We simply love how light and airy our hub is!)
Startup Club is primarily for those who:
Have a business idea but don't have a clue where to start
People already have started their business, but they're still new and have a fair few gaps in their knowledge
Want to establish a side-hustle alongside their full-time job or start out on their own (because they're a boss)
OR all of the above?!
Each week there is a different 2-hour session from an expert, these are catered to building up knowledge of what it takes to run and business. Our speaker schedule for September is as follows:
Tuesday 20th September: Introductions, Goal Setting and Business Models
Tuesday 27th September – Who's your customer?
Tuesday 4th October – Reach your customer
Tuesday 11th October – Admin, Tax and Registration
Tuesday 18th October – Finance, Funding and Pricing
Tuesday 25th October – Future Planning
The workshop (and beyond) are brimming with support, and we connect you with anyone that we believe could help you shoot for the moon. On top of this, after it's over, if you have any questions or need help with anything, we are only too happy to help where we can!
Cheeky Extras
A completely free business workshop, and there's more?!
We don't stop there, you can expect:
Tea and coffee
Yummy snacks
Access to The_Track's coworking facilities during the 8 weeks
Discounts to the experts' other facilities and workshops
A Whatsapp group where we keep eachother motivated
Access to other free events at The_Track
Want to sign up for our next Free Startup Club or to know more? Send us an email and we'll get back to you ASAP. We can't wait to help you reach your goals and dreams!
(Our next Startup Club will be taking place on Tuesday 20th September 5:30-8pm)